Cosmetic surgery is a speciality of surgery that restricts itself to the enhancement of appearance through surgical and medical techniques. Cosmetic surgery is specifically concerned with maintaining normal appearance, restoring it, or enhancing it beyond the average level. This is very seldom covered by any Health Insurance plan. Since it is a elective Surgery, the cost factor becomes as important as the Quality of the Surgeon. A qualified Surgeon can make it worth the pain of the Surgery and the cost, so that one has the desired appearence and beauty for the rest of one's life.

The educational profile of cosmetic surgeons is unique in that it begins with a fully trained and certified surgeon. Through continued post-residency education training, and experience, cosmetic surgery is taught and learned across traditional disciplinary boundaries. The subspecialty fully incorporates the participation and knowledge from all contributing disciplines to attain a high level of skill and understanding.

Competency in cosmetic surgery implies a combination of knowledge, surgical judgment, technical expertise and ethics in order to achieve the goal of providing aesthetic improvement. If you're considering having a nose job, brow lift, liposuction, or some other cosmetic surgery we offer tips and advice to help you choose the procedure that is right for you with our Expert Surgeon.

Here is what others are NOT going to tell you! We suggest that you understand all the aspects of Cosmetic Surgery.
Don't expect perfection.
Have realistic expectations. A cosmetic surgery can reshape your body, but not your life.
Know the cosmetic surgery risks.
Don't do it on the cheap or with someone who is not qualified. Pay what it takes for safe cosmetic surgery.
Make sure your cosmetic surgeon is certified by the American Board of Plastic Surgery.
Do your homework. If it sounds too good to be true, it probably is.
Tummy Tuck or Abdominoplasty is an operation that is performed to primarily staple together the loose skin in the abdomen after a weight loss, either natural or induced. A liposuction is usually followed by a tummy tuck. The Liposuction does get rid of the fat but cannot get rid of the excess skin (in case of lower abdominal apron or overhang) in which case a tummy tuck is also needed. There is a requirement of wearing an elastic pressure garment for one month after the operation. In case of Tummy tuck, a 4-5 day hospital stay is required. The recovery time is 2 weeks approximately. Here is a before and after abdominoplasty picture of a patient.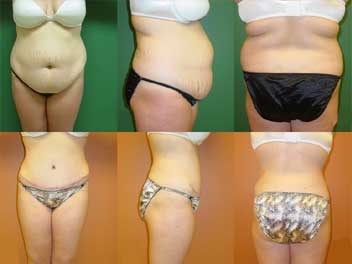 People consider abdominoplasty after having lost weight, after having had children or been pregnant and even due to abdominal laxity due to aging. Women and men also prefer to have a tummy tuck for regaining a slim figure and such similar cosmetic reasons. It is a very common, albeit major, surgery and one should be aware of all that is involved in this surgery before undergoing such a procedure. Perhaps abdominal liposuction is all you really need. There are several surgical techniques as it is not a one size fits all type of operation. Breast Enhancement is a popular procedure where the bust size is increased for beautification of the body. This is achieved by making incisions and introducing Silicone implants in the Breast. The scars and their healing is one of the major concerns here and the scars are usually under the armpit and hence is not prominent once healed. The implant selected depends on the patient's body type and so that the implants are neither lumpy after the operation nor so soft that seems like a cavity: natural feeling integration is the key here.


What our Clients said about us!.